The future of clinical trials
Adaptive platform trials driven by advanced statistical methods offer a new approach to studying multiple therapeutics simultaneously, speeding up new treatment solutions for COVID-19 and COVID-like illnesses. Recent infectious diseases outbreaks have uncovered major gaps in our pandemic responses and preparedness, and highlighted the critical importance of being able to evaluate many different therapeutics as quickly as possible.
At the onset of the COVID-19 outbreak, there was a rapid increase in the number of studies focused on developing COVID-19 vaccines and therapeutics. According to the International Clinical Trials Registry Platform (ICTRP), between January 2020 and May 2021, there were 9,990 COVID-19 related studies (WHO).
The registration of all interventional trials is particularly crucial during a health crisis to improve awareness of ongoing trials, harmonise research collaboration, and avoid duplications. Yet, the process of setting up a robust clinical trial is often complex and lengthy. From developing a master protocol, seeking regulatory approvals, getting agreements in place to site selection, training and patient recruitment, the startup time before subjects receive treatments can often take a year or longer.
Emerging innovations in clinical trial design
An adaptive platform trial for outpatients can offer a glimpse into the future of clinical trials. Jane Holmes is a senior medical statistician from the University of Oxford. As part of the EU-funded ECRAID-Prime project (WP2: Trial), she is tasked with designing an adaptive master protocol that can test multiple therapeutics simultaneously in a single trial.
"Traditionally, potential therapeutics for a disease have been tested one at a time in a linear approach against a control group over a fixed duration. However, this can be slow and costly. During an outbreak, clinical researchers are often required to test or evaluate multiple therapeutics during a trial and, these can often include treatments that only become ready for testing after the trial begins," Jane explains.
Adaptive platform trials such as ECRAID-Prime present a more dynamic and flexible approach to clinical trials, says Jane. "Instead of setting up individual studies for each intervention, it is much more efficient to test multiple interventions in one trial against a common control group. New interventions can be added to the trial once they are ready for testing, and current interventions can be discontinued if they are shown to be effective or futile. This can significantly increase the chances of identifying an effective treatment for a particular disease, improve the efficiency of drug development and speed up the introduction of new outpatient treatments."
Powered by Bayesian statistical methods
Adaptive platform trials are complex as they are innovative. Using Bayesian statistics, the ECRAID-Prime trial can evaluate therapeutics that are in various stages of development; from early safety evaluations and establishing the right drug dosages, to the evaluation of drug efficacy and seamlessly progressing to larger effectiveness studies. This enables the study team to make more informed decisions on how to proceed, and results in a more efficient trial that requires fewer patients and derives more meaningful results."
---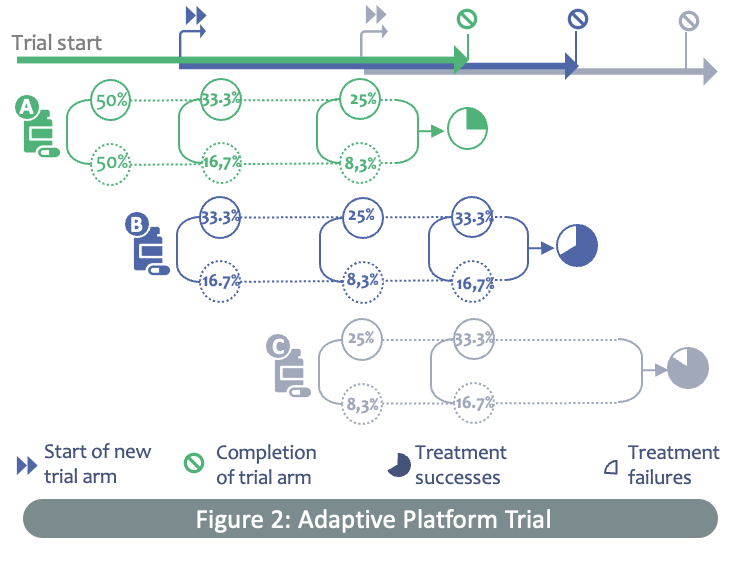 A mathematician by training, a large part of Jane's work revolves around data analyses and conducting simulations to ensure that the trial design has good operating properties. She elaborates, "For example, within ECRAID-Prime – if the median time for recovery in the control group is about 10 days, for a treatment to be considered effective, it should reduce the recovery time from 10 to 7.5 days. We then use simulations to mimic the characteristics of a trial to study the data generated and evaluate the operating characteristics of the trial. By creating virtual trials, we can change various features of the trial, such as sample size and patient characteristics, and run multiple simulations to gain a better understanding of how the trial will perform in the real world."
"The simulations are repeated as many times as necessary to help us fine-tune our trial design, until we are satisifed that we have it all right and that it will produce accurate and reliable results. This approach allows for efficient and cost-effective evaluation of trial designs before actual implementation." 
Dynamic clinical research in a real-world setting
Despite vaccination, it is possible that COVID-19 will remain endemic. A strong and dynamic clinical research infrastructure is needed to speed up the identification and evaluation of effective therapeutics against new variant strains.
Looking back at how the COVID-19 pandemic progressed and evolved over time, it is noted that different countries experienced different 'waves' as a result of the staggered emergence and spread of new variants, as well as the effects of different public policies and infection prevention measures. Taking this into account, ECRAID-Prime's study will include seven countries across Europe to develop an evolving strategic understanding on countries with a higher prevalence of COVID-19 and COVID-19 like illness to derive more vigorous and meaningful conclusions than a single country study would offer.
In the long run, the European Union's investment in the ECRAID-Prime adaptive platform trial is a promising approach to accelerating the development of new treatments for outpatients with COVID-19 and COVID-like illnesses. This is part of the overall goal to increase Europe's coordinated preparedness and response to threats of infectious diseases.
For Jane, being part of ECRAID-Prime's ambitions has been both an enjoyable and engaging experience. As a medical statistician, she relishes the challenge of  designing trials that are efficient and effective in determining treatment outcomes.
"Not only in times of crises, but also during periods of stability to help ensure that we are better prepared. By doing so, we can focus our time, efforts and resources on delivering the most effective therapeutics to patients in a quicker and more efficient manner, and when they are most needed," she smiles.
---