CLIN-Net resumes country visits with a fruitful trip to Greece
Earlier this month, CLIN-Net, Ecraid's pan-European hospital network, visited its national contacts and five sites in Athens, Greece. After almost three years of exclusively digital communication, the team used this chance to meet local contacts and investigators in person. The aim was to better understand the local healthcare infrastructure, including its challenges and the opportunities it offers for investigators and sites. The delegation put a great deal of effort into providing in-depth information on Ecraid, its extensive site network and the studies currently being undertaken.
On the first day, CLIN-Net's ICU National Contact, Dr. Despoina Koulenti, accompanied the team on visits to three hospitals in Athens. At the Evangelismos General Hospital they were welcomed by the Director of the ICU, Prof. Anastasia Kotanidou, and one of the ICU consultants, Dr. Maria Theodorakopoulou. The REVISIT and POS-VAP studies, which the site was recently selected for, were the focus of their meeting.
Next, the CLIN-Net delegation headed to the Thoracic Diseases General Hospital Sotiria where they met the head of the ICU, Prof. Koutsoukou, and an ICU consultant, Dr. Konstantinos Pontikis. A beneficial discussion about the perks of being part of a pan-European 'warm base' network took place, and the team was shown around the hospital's ICU facilities. 
The final stop on the team's busy agenda that day was the polyvalent ICU at the Sotiria Chest Hospital. This brand-new site was built during the COVID-19 pandemic and contains 50 ICU beds. The team was given a tour by the head of one of the ICUs, Dr. Despoina Markantonaki, and potential future collaborations were discussed.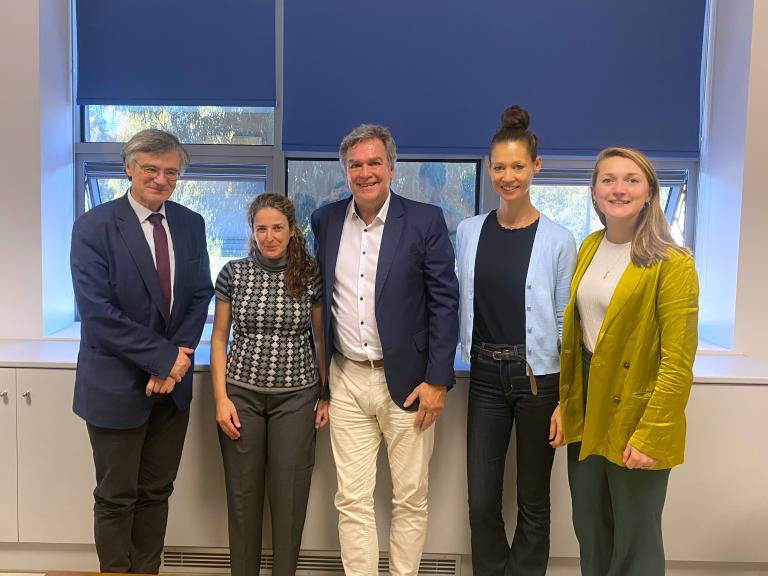 Beginning the second day with a sunny walk to the Laiko General Hospital, the team was welcomed by Prof. Samarkos, an infectious diseases specialist. After a fruitful meeting that focused on Ecraid's POS-VAP and POS-ARI-ER studies, the team concluded their trip with a visit to the Attikon University Hospital where they met with CLIN-Net's National Contacts Dr. Despoina Koulenti and Prof. Sotirios Tsiodras. Throughout the COMBACTE project, both have been of great value in addressing country-specific hurdles, supporting site selection and keeping sites engaged. During the meeting, they discussed the challenges Greece faces with regards to clinical trials, as well as a strategy for future collaboration.
CLIN-Net's visit highlighted the importance of close collaboration with sites and national contacts, and demonstrated that Greece has great potential for contributing to future trials supported by Ecraid.