Croatia hosted an ESCMID course on using diagnostic tools under challenging conditions
The European Society of Clinical Microbiology and Infectious Diseases (ESCMID) Postgraduate Education Course "Diagnostic stewardship in settings with limited resources and high AMR prevalence" took place in Sibenik, Croatia, from 17 – 19 October 2022.
Last month, the ESCMID Study Group on Antimicrobial Resistance Surveillance (ESGARS) and the Croatian Society for Clinical Microbiology jointly organised a course aiming to improve the use of diagnostic tools in settings with limited resources and high prevalence of antimicrobial resistance. This highly relevant topic attracted 43 participants from 23 countries and four continents. Many of them attended the course thanks to grants from either ESCMID or the Central Asian and European Surveillance of Antimicrobial Resistance (CAESAR) network.
Highlights
Participants were grateful for the opportunity to enhance their daily routine while increasing the quality of data used for surveillance. They were encouraged to discuss the lectures in interactive tutorials during which theory was applied to support clinical and laboratory decision making in real-life situations. According to the participants' feedback, case presentations during the tutorials were the best-liked part of the course. They also appreciated that the faculty members were available throughout the course and were happy to discuss their problems through both official and informal contacts.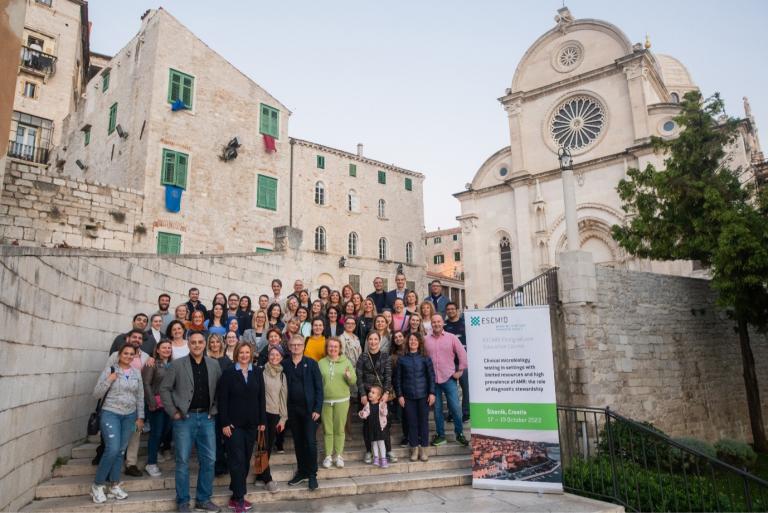 Networking was another important topic that was highlighted throughout the course. The young researchers learned about the many networking opportunities that ESCMID offers, as well as international initiatives such as Ecraid and the AmReSu project (Horizon 2020). ESCMID is a partner in the ECRAID-Base project, while course co-organiser Arjana Tambić Andrašević holds a spot on the Ecraid Coordinating Committee.
Celebrating 30 years
At the get together dinner in the old city of Sibenik, Arjana and fellow course co-organisers Onur Karatuna and Robert Skov raised a toast to Professor Ian Phillips who coordinated the first ESCMID PGEC back in 1992 in Trabzon, Türkiye, and paid tribute to all the ESCMID educators who have taken part in ESCMID's courses over the past 30 years. Arjana attended that very first ESCMID course herself. She noted that the structure of the course in Sibenik closely resembled that of the course in Trabzon, and that she was glad to see that 30 years later this form of interactive education is met with the same enthusiasm.
Watch Arjana discuss the course and her history with ESCMID in this short video interview below.