Behind the scenes of clinical trials: a research nurse's perspective
Research nurses play a critical role in implementation, advancing medical knowledge, and ensuring that clinical trials are conducted in a safe, ethical, and effective manner. 

In celebration of International Nurses Day 2023, we have the pleasure of speaking with research nurse Celine Prevost, from CHU Limoges. She tells us more about her daily work, and the unique challenges and rewards of her profession.
Thanks for joining us today, Celine. Can you please tell us about yourself?
I'm a research nurse from Clinical Investigation Center (CIC) at the Limoges University Hospital, and I have been in this profession for six years. One of the studies I'm working on is POS-VAP, which we hope to start including patients for an observational study at the end of the summer
Could you describe a typical day at work?
As a research nurse, I perform the daily pre-screening of patients, alert the physicians in case of potential patients, data entry as well as make sure that the investigators respect the protocol and the regulations.
During interventional studies, there can be adverse events that may need to be reported depending on the patient's progress. As a nurse, I pay close attention to vital parameters and laboratory results that may cause concern. If I observe any potential adverse events, I consult with the doctor who ultimately decides whether to report them. At times, the doctor may independently report any undesirable events to me.
What is the most satisfying aspect of your job?  
The thing that gives me the most satisfaction as a research nurse is that the contact I have with my patients is different from that in a health service. In fact, depending on the study, we see our patients more regularly over a longer term of say, one or two years. Moreover, through the questionnaires proposed in various studies, we have the opportunity to engage in discussions with our patients on a range of topics that are different from that standard care, such as quality of life. This allows us to establish a real relationship of trust with our patients.
And what are the most challenging aspects of a research nurse? 
The most challenging aspects about my work as a research nurse is that this profession is not well recognised in the other health service – they do not know about our missions. In terms of our status within the hospital sector in France, there is little room for upward growth. For example, in France, people working in public institutions, such as technicians, nurses and physicians on the clinical care; they have a pre-determined path of career development, depending on their training and years of experience. Unfortunately, this does not include nurses in the research field. I hope this will change soon.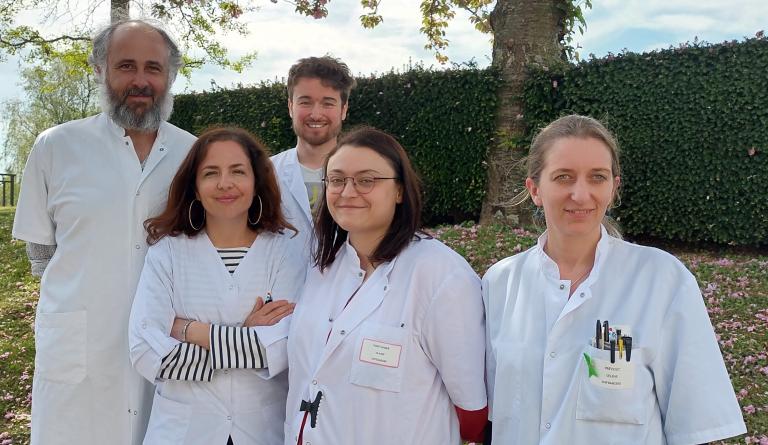 POS-VAP team photo (from left to right): Thomas Daix, Anne-Aurore Villeneuve Duchambon, Théo Meriguet, Claire Fontanier and Celine Prevost.